Illuminating the Story of the Forest
Illuminating the Story of the Forest
In landmark collaboration with artistic collective teamLab, Panasonic transformed museum dome and cloister spaces with projection-mapped images brought to life by SOLID SHINE Laser.
Scroll down
Panasonic Laser Projectors Illuminate Story of the Forest at National Museum of Singapore
Panasonic recently supplied and installed 59 sets of PT-RZ670BE SOLID SHINE Laser projectors (6,500 lm WUXGA) to National Museum of Singapore. In one of the largest deployments ever for a single museum venue, the projectors mapped images on a dome ceiling and corridor to tell Story of the Forest, an interactive multi-media exhibition commissioned by National Museum of Singapore and created by Japanese artist collective teamLab. The exhibition has since attracted widespread attention and acclaim in the media.
"This particular exhibit is groundbreaking, in many ways. I've had a wonderful response from my visitors. A lot of them really understand where we're coming from in trying to bring the collection to life. And working with a collection like this, it's really important for them to see it at an artistic level, and at a technological level. It allows others to interact, not just view, in an immersive environment. We wanted to bring this collection to life for our visitors, bringing in technology, working with partners, the artists, as well as teamLab, Panasonic, and Broadcast Pro."
Why Choose Panasonic?
No lamp or filter replacement for up to 20,000 hours
Free 360-degree installation flexibility
Edge blending and multi-screen calibration enable large-scale image mapping from any angle
High brightness, outstanding picture quality, and excellent reliability under continuous operation
Strong technical support for the projector layout design
Behind the Scenes with Story of the Forest
Founded in 1887, National Museum of Singapore is the oldest museum in the country. Known for its creative exhibitions, the institution recently renovated a cylindrical glass centerpiece building to push boundaries with interactive projection technology. National Museum of Singapore commissioned teamLab to create artwork inside the glass structure. Utilizing the space to full effect, Story of the Forest opened to the public on December 10, 2016, and has since attracted global media attention for its inventive blend of art and technology. Two aspects of the installation include a seamless 144 m projection in the gallery corridor, and a large multi-screen dome projection. In the corridor, visitors can use a dedicated "Story of the Forest" smartphone app to photograph projected images of flora and fauna and receive augmented information about them on their devices.
"In the early 1800s, William Farquhar, a British citizen, came to Singapore. He was impressed with the flora and fauna of Malaya, and created an art collection with several local artists of the time. National Museum of Singapore now houses this collection. Based on his collection, we created Story of the Forest. You can walk into Story of the Forest with your smartphone and take pictures of things around you, to collect and build up your own picture book. And in the picture book you can learn all about the characteristics of the various animals. I think that's what makes Story of the Forest truly unique."
Finding the Right Projection Solution
Panasonic had a lot to consider when selecting a projector model to meet client requirements while delivering on teamLab's concept. With no lamp or filter replacement for 20,000 hours, SOLID SHINE Laser presented a solution for reliable maintenance-free operation. As angled multi-screen projection was required, 360-degree mounting flexibility put laser ahead of lamp-based alternatives. Drawing on teamLab's concept and on-site surveys, Panasonic proposed using its PT-RZ670 SOLID SHINE Laser projector. The unit balances high 6,500 lm brightness at WUXGA resolution with functions for complex mapping applications. Excellent on-site support gives Panasonic a crucial market advantage, and our technical team began designing a projection layout to suit the venue immediately. When considering projector positions, easy access and concealment from visitors were weighed against requisite picture quality. As the distance from wall to screen varied at every point along the long stretch of corridor, finding optimal positions for each unit was difficult. Engineers performed extensive simulation using Panasonic's internal simulation software, and made frequent visits to the site to identify possible projection locations before deciding on a final layout proposal. After a demonstration, National Museum of Singapore was persuaded Panasonic SOLID SHINE Laser could deliver best performance at lower overall cost.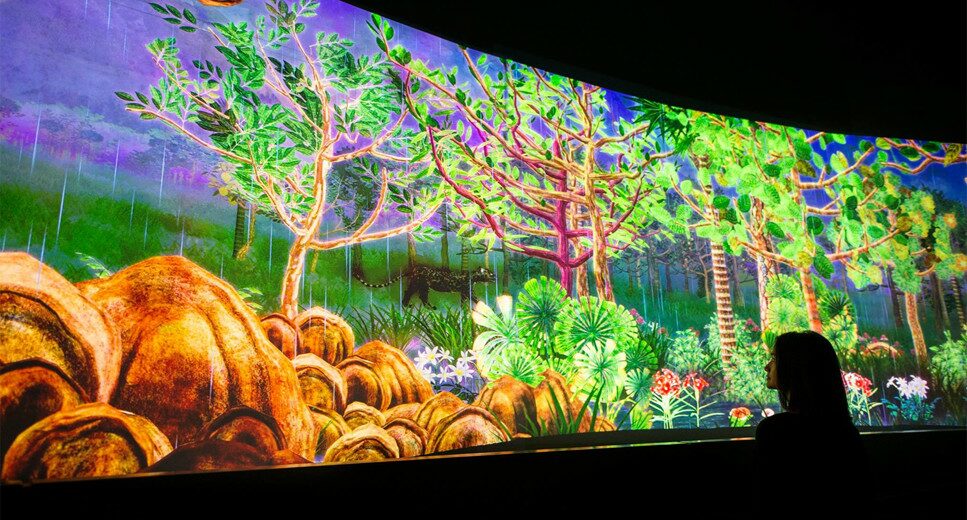 SOLID SHINE Laser projectors in action.
A temporary dome was constructed in Kawasaki City, Japan, to test projection layout and performance ahead of final deployment.
Performing on-site adjustments at National Museum of Singapore.
"Inside the original dome, inside this space, we needed to put the projectors facing each other. If there is a lot of clearance between each screen, which is called the running edge, they show a white pattern on the screen. The RZ670 is a laser projector that shows a black screen very clearly. So it really shows and supports a dark black background very well in this space. The Panasonic team is amazing. Very amazing. They always work so fast and accurately. Very inspiring. We really appreciate all their hard work and thank them for making this happen."
Sorry there was an error...
The files you selected could not be downloaded as they do not exist.
You selected items.
Continue to select additional items or download selected items together as a zip file.
You selected 1 item.
Continue to select additional items or download the selected item directly.