PTZ Camera 4K
AW-UE80
4K 50/60p PTZ Camera supporting Full-Bandwidth NDI, SRT and FreeD protocols
Scroll down
Supports a wide variety of IP transmission protocols, including high bandwidth NDI*1, NDI|HX, and SRT*2
Supports 4K 50p/60p shooting 
Includes a wide-angle lens with a 74.1° field of view and 24x optical zoom
Supports FreeD for building AR/VR systems
New Direct Drive System for improved responsiveness and quietness

The AW-UE80 has a newly-designed and compact body with a weight of only 2.0kg, which makes it very easy to handle and to install in any kind of setting, especially when positioning the camera on trusses or ceilings.
The AW-UE80 has been designed to support the following markets:
Fixed-rig/factual programming
Rental and staging
Esports
Broadcast and mixed reality studio environments
Parliaments and theatres
Higher education
Corporate installs
Single-cable solution
The AW-UE80 offers PoE++ support for camera power, control and video transmission over a single cable.
Direct drive system
The AW-UE80 features the direct drive system based on Panasonic's own technology for quiet and smooth vertical and horizontal direction, with a reduced operating sound of NC25 or lower. Direct drive also opens up more opportunities for PTZ operation including faster, precise movement and with higher accuracy in preset positioning – making it Panasonic's fastest, quietest and most accurate PTZ yet.
Upgraded 4K sensor
The AW-UE80 features a new 1/2.5-type 4K MOS sensor that produces stunning UHD video with true 4K resolution of 1,500 TV lines in UHD. The UE80 supports 3G SDI, HDMI and IP which makes it an ideal option for using within existing HD or 4K workflows thanks to its simultaneous video output feature.
Wide-Angle Lens
The AW-UE80 introduces a new wide-angle lens with a 74.1° field of view and a 24x optical zoom, enabling a wide area to be shot from a limited installation space, in addition to maintaining high image quality at high zoom ratios. This allows shooting in large indoor spaces. Intelligent zoom extends its capabilities to 28x in UHD and 36x in Full-HD.
Optical Zoom and Image Stabilisation
Optical Image Stabilisation (OIS) and Electronic Image Stabilisation (EIS) have been added to the unit to ensure smooth pan-tilt movement when in busier environments or moving or be placed onto a robotic system for example.
New Processor
The AW-UE80 includes a new powerful chipset platform, making the PTZ incredibly responsive and capable of increased video processing tasks for higher image quality and lower latency output.
4K & HD Analogue Outputs
The AW-UE80 supports up to 4K 50p/60p video at 3840 x 2160 to provide professional and high-quality shooting of moving images, as well as a wide variety of output interfaces such as 3G-SDI, HDMI, and IP – which can be activated simultaneously for HD and 4K workflows.
New NDI, SRT & IP Outputs
There is also a wide variety of IP transmission protocols available out of the box, including NDI*1, NDI|HX version 2, and SRT*2. High bandwidth NDI can transmit full HD video up to 100 Mbps.

The AW-UE80 also offers high-efficiency, low bandwidth NDI|HX version 2 to enable video transmission at low bitrates. In both cases, only one single LAN cable is needed.
Secure Reliable Transport (SRT*2) is also supported to maintain stability while transmitting high-quality video, even in unstable network environments and allows video distribution over public internet in a secure and reliable way. SRT offers encryption and as lost packets are automatically detected and resent.

RTMP/RTMPS*4 provides direct streaming to live broadcasting services such as YouTube Live and Facebook Live from the camera directly.
FreeD Support for Virtual and Augmented Reality Applications
Like the AW-UE150 and AW-UE100, the AW-UE80 includes FreeD*5 support to enable connection with AR/VR*6 systems. FreeD*5 allows the camera tracking information (pan/tilt/zoom/focus/iris) to be output together with a synchronisation signal to easily build systems without an encoder.
New Web Interface & Simplified Workflows
A brand new web interface has been introduced for professional operators working within darker environments to easily navigate the advanced GUI for operators.
Panasonic offers an entire ecosystem of solutions to enable the new PTZ cameras to be smoothly introduced into existing camera systems. This includes use with its remote camera controllers, PTZ Control Center centralised control software, and its automatic tracking software for presentations and lectures, enabled by face recognition and human body detection.
*1: NDI: High bandwidth NDI
*2: SRT: Secure Reliable Transport
*3: NDI|HX: High effciency low bandwidth NDI|HX.
*4: RTMP: Real-Time Messaging Protocol, RTMPS: Real-Time Messaging Protocol Secure
*5: FreeD is a protocol widely used in virtual studio systems for transmitting camera tracking information.
*6: AR: Augmented Reality, VR: Virtual Reality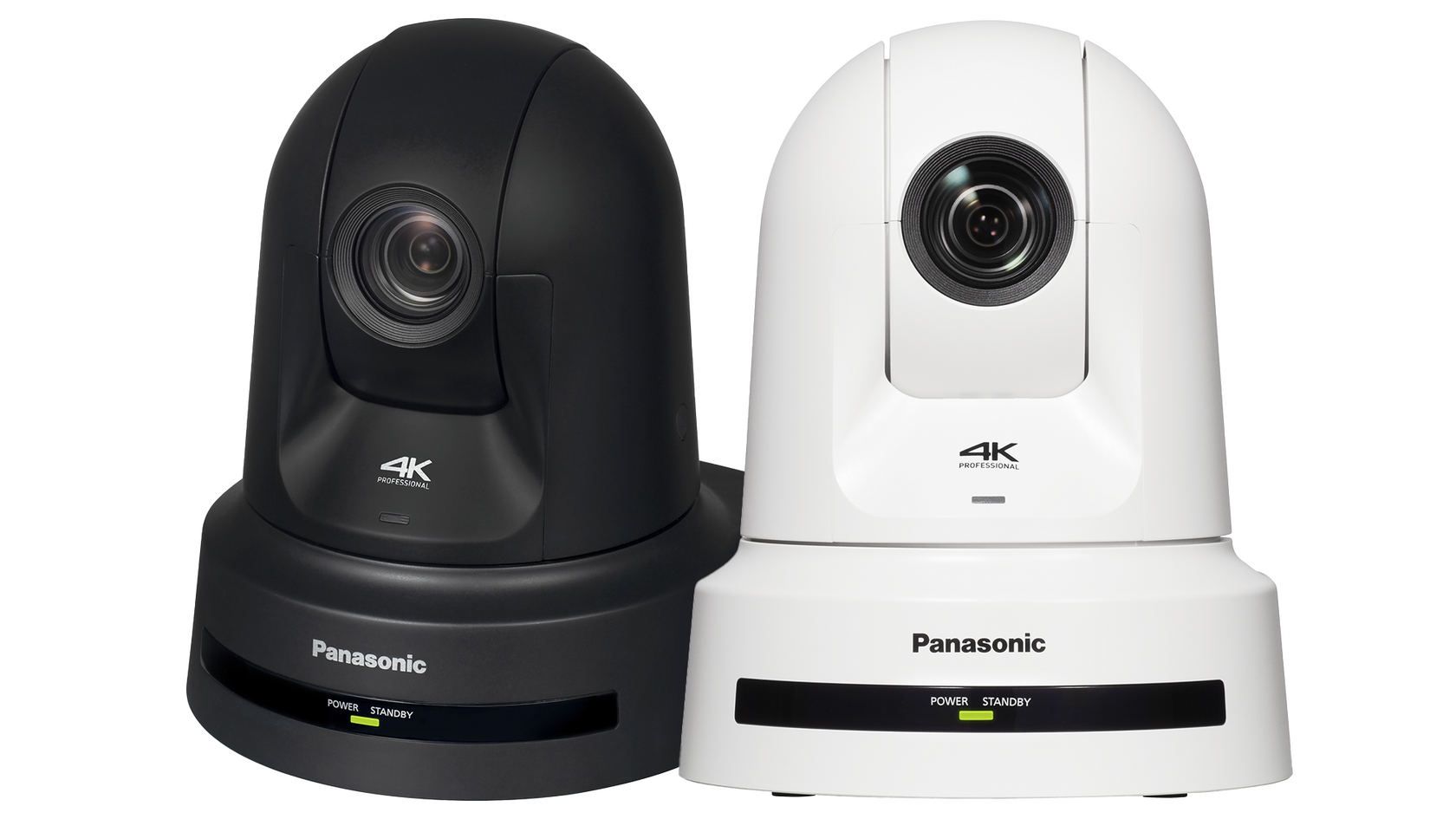 Models to respond to a wide range of video production needs, such as recording of reality shows and events
The AW-UE80W/K is PTZ camera suitable for capturing the natural facial expressions of actors/performers and for recording events without spoiling the ambience.
The dome-shape design minimizes "the feeling of being recorded on video" while the new direct-drive motor produces a very quiet operating sound so it won't disturb the production activities or spoil the ambience. The camera offers high-image-quality 4K/60p resolution, wide 74.1° angle and optical zoom with up to 24x magnification to achieve superb video image quality. The AW-UE80W/K also offers excellent stability and security during video streaming so it can be used for any type of video production. From production of a reality show to recording of an internal business or educational event, the top-of-the-line standard model, AW-UE80W/K, can be used in a diversity of applications.
Features
Compact & quiet design blends in smoothly with the surroundings.
The inconspicuous, small dome-shape design blends in with the surroundings to minimize "the feeling of being recorded on video."
Low operating sound for anywhere use.
Original image stabilizers ensure clear and stable video recording.
Can be suspended from the ceiling or mounted on a tripod for shooting from locations too difficult for a person to enter.
Flexibly adapt to various video shooting situations such as large-scale shooting.
4K resolution, wide angle and high-magnification zoom maintains "the lively ambience in the hall" intact in streaming videos.
Single controller can control up to 200 camera units.
Supports FreeD to enable low-cost AR/VR shoo
High-quality videos resistant to interruption and with a low latency.
Smooth playback of high-quality videos.
Secure and stable streaming protocol for reduced risk of communication trouble.
Featuring compact design and quiet operating sound, the AW-UE80 can be used effectively in any shooting situations and places. The camera unit is so inconspicuous it helps capture more natural facial expressions and actions of the performers.
Compact dome-shape design blends in with any ambiences to minimize the performers' "feeling of being recorded on video."
The dome-shape unit with the recessed lens makes the movement of the camera unnoticeable. It allows capturing of the performers' natural expressions without causing oppressive feelings. The camera unit weighs about 2.2 kg for easy portability.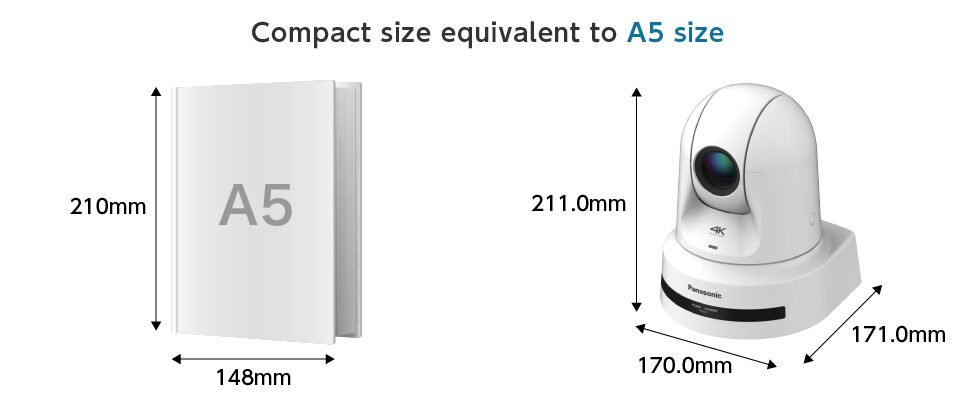 Quiet operating sound for anywhere use
The operating sound is quiet so there is no need to worry about the camera sound spoiling the ambience even when producing a reality show or recording an event. The new direct-drive motor operates quietly during panning (horizontal movement) and tilting (vertical movement) so it does not disturb the recording of crucial scenes.
What's more, the new direct-drive motor stops precisely at a desired position, returns exactly to a preset position when the preset function is used for accurate camerawork, moves smoothly to accurately follow subjects moving at different speeds and allows speed setting. Combined with the quietness of operations, these features and functions can play an active part in a diversity of video production.
Original image stabilizers for stable video shooting.
Even when the camera unit is mounted on an unstable place such as a crane or rail, the two types of image stabilizer functions ensure sharp and clear images. The Electronic Image Stabilization (EIS) makes adjustment by ensuring smooth movement of the camera in the roll direction while the Optical Image Stabilization (OIS) makes fine adjustment of the lens. Together, they assure stable recording of high-quality images.
Can be suspended from the ceiling or mounted on a tripod for shooting from locations too difficult for a person to enter.
The AW-UE80 can be flexibly mounted at a place where it is too difficult for a person to enter, so it can be utilized in a diversity of recording situations.
The wealth of functions to meet diverse shooting needs, such as reduction of required manpower at the shooting site without causing any quality degradation.
4K resolution, wide angle and high-magnification zoom maintain "the ambience of hall" intact in streaming videos.
The combination of the high 4K resolution, wide angle and high-magnification zoom enables capturing of the ambiences of events and concerts as well as the facial expressions of actors/performers so that the realism and atmosphere can be conveyed in online video streaming videos. The zoom function allows the enlargement of a desired area precisely so the streaming video becomes more attractive to watch. By utilizing the wide 74.1° angle and up to 24x optical zoom, missing of important scenes at an event can be prevented with a minimal number of camera units. This makes the AW-UE80 suitable for use in a broad range of applications regardless of the size of the hall.
Single controller*1 can control up to 200 camera units.
A single controller unit can be used to control multiple camera units. When equipment compatible with PoE++*2 is used to connect to the network, a single LAN cable can transmit the video, audio and control signals as well as the power supply. The reduced number of cables used means decreased cable connection trouble, such as cable disconnection that causes interruption of recording. It also eliminates the need for the wiring of power supply cables. Furthermore, in outdoor recording using a temporary platform, the time and effort for setting up and removing the platform can be reduced.
*1: When using Remote Camera Controller AW-RP150GJ or AW-RP60GJ.
*2: Abbreviation for Power over Ethernet Plus Xu. It refers to the technology for supplying power through a LAN cable.
Simplified cable connection

System configuration image

Perfect for starting AR/VR video shooting at a low cost.
The AW-UE80 can output commands in compliance with FreeD*1 so it can be connected to an AR/VR system. The use of the AR/VR*2 feature enables the creation of a new type of videos totally different from before.
*1: FreeD: A protocol which outputs camera tracking data for use by an AR/VR system. The AW-UE80W/K outputs the camera's pan, tilt, zoom and focus information that is necessary for creating AR/VR images.
*2: AR and VR stand for Augmented Reality and Virtual Reality, respectively.
The AW-UE80 realizes streaming of high-image-quality videos with a low latency even when the communication is unstable. Furthermore, it ensures excellent stability and security during streaming, so it can be used safely for any applications.
Smooth playback of high-image-quality videos.
The AW-UE80 comes standard with High Bandwidth NDI®*1,2 and NDI®|HX version 2*3,4 for IP transmission of high-image-quality videos. High Bandwidth NDI® enables IP transmission of high-image-quality videos with a low latency, while NDI®|HX version 2 achieves efficient video transmission with a limited bandwidth. Since the video source is accessible from any device on the same network, even unknown IP addresses are automatically recognized. This allows for a flexible video production flow at the shooting site.
Difference between High Bandwidth NDI® and NDI®|HX version 2
 
High Band width NDI®
NDI®|HX version 2
Compression system
NewTek's proprietary system
(low compression)
H.264 base
(high compression)
Bit rate
FHD 60p
125 Mbps
4-24 Mbps
Network equipment
(cables, routers, etc.)
Ordinary gigabit Ethernet environment Standard 1-Gpbs Ethernet cable
Source: https://www.ndi.tv/about-ndi/
*1: NDI® is a new protocol developed by NewTek, Inc. that supports IP video production workflow.
*2: NDI® is a registered trademark of NewTek, Inc. in the United States.
*3: In this instance, NDI® is used to indicate low latency with high bandwidth NDI®, NDI®|HX is used to indicate high efficiency low bandwidth NDI®|HX.
*4: In the NDI®|HX mode, 4K video signals cannot be output. AW-UE80 supports NDI®|HX version 2 and Full HD output.
Secure and stable streaming protocol that reduces the risk of communication trouble.
The AW-UE80 supports SRT*1, a next-generation video transport protocol which works well even with an unstable network environment and which provides robust security. This prevents trouble such as transmission interruptions during program production or event recording, thus assuring stable and reliable video streaming. This protocol can prevent risks such as information leakage, so it can be used safely for any video content.
*1: Abbreviation for Secure Reliable Transport
Key points of SRT
Security
Encrypts video data before the transmission to assure high security.
Stability
The packet loss recovery function automatically detects packets lost during the transmission and resends them to achieve stable, disturbance-free video transmission.
Supports transmission over public line
The flexible and highly adaptable buffer management system enables stable video transmission even under a network environment with an unstable bit rate. Public internet can be used for a long-distance video transmission.
Source: https://www.haivision.com/products/srt-secure-reliable-transport/features/
*1: NDI: High bandwidth NDI
*2: SRT: Secure Reliable Transport
| | |
| --- | --- |
| General | |
| Power Requirements | 12 V DC (10.8 V to 13.2 V) (Supplied AC adapter) |
| PoE++ | IEEE802.3bt compliant: DC42 to 57 V (Camera Input)(Software authentication (LLDP) is supported) |
| Current Consumption | 3.0 A (Supplied AC adaptor), 1.0 A (PoE++ power supply) |
| Ambient Operating Temperature | 0 °C to 40 °C (32 °F to 104 °F) |
| Ambient Operating Humidity | 20 % to 90 % (no condensation) |
| Storage Temperature | -20 to 50°C (-4 °F to 122 °F) |
| Mass | Approx. 2.0 kg (4.41 lbs) (excluding ceiling mounting bracket),Approx. 2.25 kg (4.96 lbs) (including ceiling mounting bracket) |
Remote Camera Controller
AW-RP150GJ
The AW-RP150 will be the newest remote camera controller to compliment Panasonic's comprehensive professional PTZ camera lineup. It has the same great functionality of the AW-RP120 and AW-RP50, and joins the lineup with significant improvements over those models, including a new one-hand operation joystick (controlling PTZ or Focus) and a large touch-panel LCD screen for monitoring and menu setting.
ProAV Software Solutions
AW-SF300
Panasonic's Visual Preset Software adds intuitive GUI-based operation to the free to download PTZ Control Centre software. This enables the management and control of PTZ camera presets whilst incorporating photos and layout diagrams assigned by the user.
ProAV Software Solutions
AW-SF100/200
Assists automatic tracking of a person shot by a Panasonic Remote Camera and with the ability to track a single person, this software is well suited to for education and video conferencing. 
ProAV Software Solutions
PTZ Control Center
Centralized management of multiple PTZ camerasPan/Tilt/Zoom by buttons, sliders, or a touch on a screenCamera preset buttons with thumbnails (Register/Recall/Delete of up to 9 points)Camera picture quality adjustmentSimultaneous control of multiple cameras (Focus/Iris/Gain/White balance/Shutter/ND Filter)Camera SD recording Start/Stop (Only for cameras that support SD card recording)Limits functions by administrator authenticationCopies setting data between multiple PCAutomatic camera discovery and network setting
ProAV Software Solutions
EasyIP Setup Tool Plus
EasyIP Setup Tool Plus is a piece of freeware that enables the centralized management of a range of network settings and firmware updates for PTZ Cameras. It supports efficient camera setup and operation in a range of situations where multiple cameras are used, including during installation work and setup for events.
Switchers/Mixers Series
AV-UHS500
The 4K Live Switcher is easy to use in a variety of applications, such as event staging, broadcast at stations and OB vans, lectures at universities, conference halls and so on, demonstrating incredible performance in live video production on the field.
Remote Operation Panel
AK-HRP250
Compact operation panel with IP control and PoE support. By combining them AK-HCU250 Camera Control Units (CCU) and the AK-HRP250GJ Remote Operation Panel (ROP), it is possible to construct a long-distance optical fiber transmission studio camera system at a low cost.