Singapore, 27 May 2022– Panasonic Connect Asia today announced the completion of the 500 parcel lockers installation for the Parcel Locker Network System.
In September 2020, a parcel locker project was awarded to Panasonic Asia Pacific and its consolidated company RFNet for the hardware & software design, development, deployment, and maintenance support for half of the nationwide parcel locker network. The committed 500 parcel lockers were successfully installed. 
This system is the company's first project that includes the development of a large-scale logistics infrastructure system. Through system maintenance services, Panasonic Connect Asia and RFNet Technologies have contributed to a more efficient and sustainable logistic system together with operating company Pick Network.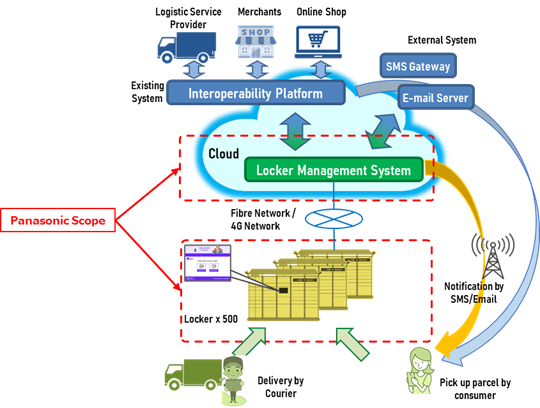 "The project tender win is in line with Panasonic's mission to contribute to society, to improve the effectiveness of the entire parcel delivery-collection process so as to address the rapidly growing e-Commerce trends to create a convenient logistic platform for the online retailers, logistic service providers, and consumers", said Gary Tan, Head of Solutions Business Division. 
Pick lockers are strategically placed for the general population, in public housing areas, community clubs & transportation nodes. Consumers can conveniently collect their online purchases easily from accessible lockers. Upon completion of delivery, the Locker Management System will notify the Interoperability Platform and the Interoperability Platform will send the collection PIN to consumers via SMS or email alert when their parcels are ready for collection at the parcel locker at their convenience. 
Gary further comments, "No doubt, the entire journey on this turn-key project has been challenging due to our changing environment fuelled by the pandemic, but it has given us valuable opportunities to resolve challenges using innovation and co-working relationships with the customer." 
Panasonic aims to continue developing more advanced autonomous solutions to resolve customers' operational issues, and user experience and contribute to a sustainable society.
Case Study
Full Throttle at the Petrol Station with team energie
Case Study
Jempson's has installed Electronic Shelf Labelling (ESL) in most of their local stores to remain at the forefront of technological innovation and sustain its award-winning reputation.
Case Study
With online shopping on the rise, the introduction of Panasonic chilled and frozen automated Smartlockers at Australian retail outlets has improved choice for consumers and boosted margins for businesses.
Sorry there was an error...
The files you selected could not be downloaded as they do not exist.
You selected items.
Continue to select additional items or download selected items together as a zip file.
You selected 1 item.
Continue to select additional items or download the selected item directly.